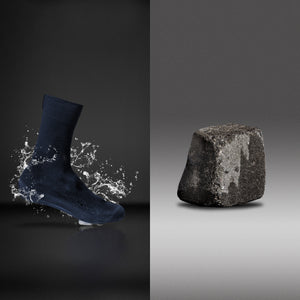 celebrating the spring classics
The Spring Classics are known for brutal, honest conditions, with a subtle beauty buried deep in the mindset of the rider.
We strongly relate to such conditions here in Scandinavia, and salute the mindset of riders who embrace these conditions.

Our Flandrien Shoe Covers are born out of a commitment to keep us riding, and enabling us to ride whenever and wherever.
A SMALL PIECE OF FLANDERS IN SCANDINAVIA
Caroline Geldorf, riding in the Odsherred hills, Denmark.
"Hills are a challenge you see on the horizon, and the trepidation grows as you approach them. At the summit, your legs are burning and your heart is pounding in your chest; but you feel triumphant – you have overcome the mental and physical mountain." Caroline Geldorf 2022
design philosophy
"When designing the Flandrien Waterproof Knitted Shoe Covers, our aim was to evolve the classic knitted cover sock; taking this historical piece of cycling clothing, with its soft stretchy fabric and close-fitting cut, and propelling it into the modern age through water-resistant membrane technology."
PRODUCT FEATURE
Flandrien waterproof knitted shoe cover
1
THREE LAYER CONSTRUCTION:
The outer layer has a water-repellent anti-wicking finish: an eco-friendly, PFC-free treatment is applied to the yarn before knitting, which prevents it from absorbing water; water runs off the knitted surface, rather than soaking in.*
A waterproof, breathable and super flexible membrane extends the whole length of the shoe covers for complete protection.**
An inside insulating layer adds comfort in cold temperature conditions.
2
KNITTED FOUR-WAY STRETCH CONSTRUCTION makes the cover socks flexible and easy to put on – just like the classic Belgian Bootie.
3
ANTI-SLIP GRIPPERS on the inside of the heels help the shoe covers stay securely seated on the heel of your road cycling shoes.
4
DURABLE CONSTRUCTION with reinforcements to the hems on the underside of the shoe covers help to reduce wear.
5
PRECUT AND REINFORCED HOLES FOR CLEATS AND HEELS
Designed just for road cycling shoes; these holes accommodate Road SPD SL type cleats and the small hole on the heel allows the heel gripper to protrude through.
* The standard test to quantify water-repellency is the spray test and, in this test, the finished product sample has a rating of 5 = maximum.
** Rainproof and waterproof under very high pressure (20,000mm +) and highly breathable (15,000g/m2 +).
product feature
waterproof knitted thermal gloves
1 
WATERPROOF FLEXIBLE MEMBRANE between insulating layers of knitted fabric. Stay dry and warm, whatever the conditions. These gloves offer excellent protection, while providing a soft, flexible fit – a favourite for chilly and wet days on the bike.
2 
SIMPLE, CLASSIC LOOK WITH SILICON GRIP FOR ULTIMATE VERSATILITY. Whatever cycling discipline you choose, these gloves will offer you protection from the wet and cold conditions you encounter. A classic look that pairs with any riding outfit. 
Read the definitive guide to having the best TV experience of the Cobbled Classics. Delivered by Classics specialist Chris Smeets, GripGrab Key Account Manager in Benelux.
BLOCK OUT THE DATE IN YOUR DIARY
and cancel all family or friends' gatherings. Check the cycling websites to be fully updated. Buy appropriate beers for a Classics race: Kwaremont for the middle of the race, Westvleteren 12 – or a similar Triple or Quadrupel from Flanders – for the final.


PUT YOUR PHONE ON MUTE
and make sure you can't be reached by anyone. Drink at least two coffees to get you started, but don't drink so much that you will have to use the toilet too soon. Prepare snacks, food, drinks within reach of the couch where you will be sitting or lying. If you have kids, this is a great day for them to visit their grandparents.


MEMORISE NAMES LIKE KOPPENBERG
Muur van Geraardsbergen, Oude Kwaremont, Haaghoek + more. Know how long they are, how many stars they've got, where they lie on the route and how steep they are.


STAY IN FRONT OF THE TV
until the 'early break' has established itself, even when it takes 100km to do so. Once the early break is on its way and is at least four minutes ahead, you are allowed to go and get some more food and drink or visit the toilet.


PAY ATTENTION
to the first signs of teams taking turns in the peloton. This will give you a good sign of who is good and who isn't. Make sure the final beers are ready for later. At around 12:30 open your first beer as we are approaching the cobbled sections.


NO MOVING FOR THE NEXT 2.5 HOURS
Surround yourself with food and drink. Wear a cycling cap of your favourite team. Make sure you have space for jumping up when an attack or crash happens. Clear the space between the couch and the TV so you can have a super close-up look during decisive situations.


USE THE MATCHING GLASS FROM THE BREWERY
Being deep into the race your final beer must be opened (have some as back up beers to celebrate later). Nothing can distract you anymore. You are allowed to scream. Ignore neighbours or people in the street. Always celebrate afterwards with a beer and salute to the Tour of Flanders – the top Classics race – and its winners.


SHOW VIDEOS OF ATTACKS AND CRASHES
when your relatives get home. Tell them extensive stories about how the race unfolded and relive the final kilometres with them.


EAT SOME DINNER
then go to bed early, it's been a tough day. Tomorrow, you're cycling.
GET THE FULL KIT FOR THE SPRING CLASSICS