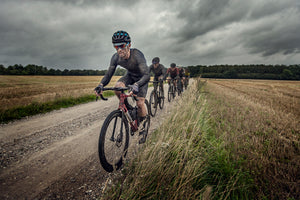 ENRICHING
LIVES
THROUGH
CYCLING
The Spirit
We love detours
Every morning, somewhere in the world, there's a Gripster who looks out the window, checks the weather conditions, gets dressed and jumps on their bike – but instead of riding straight to work, they take a turn and transform their classic commute into a wonderful detour in the magical morning light.
Whoever said that the best way to work was the shortest way? We bet it wasn't a cyclist.
With a smile, and a body and soul filled with positive energy, the Gripster who took the long way round arrives at GripGrab HQ, greets their colleagues and picks up where they left off: developing solutions that enable every rider to explore their cycling potential.
What we do
Cycling essentials for all conditions
Being cyclists in Scandinavia, we are used to dealing with a great variety of riding conditions. From freezing, dark winters to wet, cold spring rides and summer days that can both be blazing hot or surprisingly chilly.
Regardless of the weather, we make every day a riding day, and although it may seem like a bold statement, we consider ourselves to be (nerdy) experts capable of designing some pretty good cycling essentials for all conditions. We are constantly driven to find solutions to problems that stand in the way of a good ride. We don't let the weather stop us – and neither should you.
The history
TWO DECADES AND STILL INNOVATING
GripGrab is a family business. Founded by brothers Kristian, Martin and Bjørn Krøyer in 2000. GripGrab is today run by CEO Martin Krøyer and CPO Kristian Krøyer.
GripGrab's core philosophy is based on our experience as cyclists: creating products that protect against any conditions.
These products give riders the confidence to go further, push their limits and explore more.
Our mission is to create the products that enable all cyclists to explore and live out their individual cycling potential.
The Team
Meet the gripsters
The company started small with three dedicated brothers doing basically everything. Today we are close to 50 Gripsters, with most working out of our HQ in Copenhagen, but there are also Gripsters based across Europe and even in Pakistan.
The Gripsters embrace everything cycling offers: daily commuting, weekend coffee rides with friends, hardcore racing, bikepacking, urban exploring and cycling holidays.
We basically love cycling, and live to celebrate the diversity that the two-wheeled lifestyle offers.
Every year, the entire Gripster team meets up on the beautiful island of Mallorca for a couple of days of riding, while testing and trying out new GripGrab products – and just having fun.
The impact
Responsibility
Our responsibility is clear and simple: the world should be a better place with GripGrab in it than it would be without.
We want to exist on this planet in a responsible way and to us, as a business, we must take responsibility for our social and environmental impact – and that starts with us setting the bar high.
As one of our valued customers, you might notice small changes in our products over the coming years. These are made to improve our impact (and our products), while we also remain very attentive to never compromising the GripGrab quality that you know and appreciate. We hope you will welcome these changes and support us on our journey.
COMMUNITY
Join Us
At GripGrab, we take pride in building close relationships with our community and the users of our products. Our overall mission is to help cyclists – that's anyone who rides a bike, no matter how far or how fast – to reach their cycling potential.
COMFORT IS THE NEW COOL
Better ride experiences
It's very simple: if our focus diverts from the ride experience, such as when we get cold feet or numb hands – then we're missing out. To ensure we have the best ride experience, we need to be aware of the potential obstacles that divert our focus and decrease the quality of our ride.
We don't get stronger or happier from being cold or wet. We get stronger from a quality workout or an enjoyable bike ride. We get motivated by experiencing the scenery, by conquering the conditions and by wanting to go out there again and again.
We believe that comfort leads to a better ride experience, and we invite you along on our journey in making comfort cool.