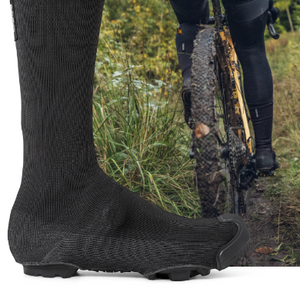 A WOLF IN FLANDRIEN CLOTHING
The design, functionality and features of the Explorer Shoe Covers are meticulously developed in cooperation with elite gravel riders providing feedback from numerous test rides in various conditions. As a Scandinavian brand, we embrace the conditions and don´t let rain, wind or cold stop us from riding. We don´t talk about on-seasons or off-seasons, we take action in choosing the right gear for the right conditions. The Explorer shoe covers feature enhanced durable weather protection, so your gravel ride will be a great experience even in demanding conditions.
Waterproof Design
Our mission to create versatile shoe covers specifically designed for gravel riding in wet and chilly conditions has produced cutting-edge waterproof shoe covers that simply look great and perform on all parameters. The Explorer Shoe Covers are already a favourite piece of essential gear for many gravel riders.  
FORM-FITTING & ZIPPERLESS
The high-stretch fabric provides a form-fitting profile, while the zipperless cuff reduces irritation and extends product life compared to standard zip designs. Shoe covers that look and feel great.
THREE-LAYER WATERPROOF CONSTRUCTION
The three-layer composition consists of an insulating inside knitted layer, a stretchable fully waterproof membrane and a robust outside knitted layer. The choice of materials combines fully waterproof functionality with a modern take on a retro design.
WEAR REINFORCEMENTS
The Explorer shoe covers are all-terrain, highly protective and essential gear that gravel riders can rely on when riding in testing off-road conditions. They have a rugged appearance, while the zipperless waterproof soft fabric is insulating and ensures a close fit around your cycling shoes. Designed specifically for gravel riding by gravel riders.
TOE CAP REINFORCEMENT
The TPU toe caps on the Explorer protect the front of the shoe covers from wear and impacts. The toe caps are key to the enhanced durability of the gravel specific design. Made from injection moulded TPU, they protect areas of the shoe covers that are repeatedly exposed to abrasion during your rides and when getting on and off the bike.
SHOE UNDERSIDE REINFORCEMENT
The strategically placed TPU underside wear patches further enhance durability. These patches are positioned between the forefoot and heel treads – an area that receives notable impacts from rough surfaces when walking off-road, and an area that can come into contact with the pedal if the pedal is missed when trying to clip in. The protective TPU patch helps avoid damage to the soft knitted fabric.