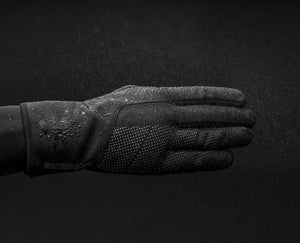 There is no "one-glove-fits-all" – but we have gloves for all riding styles and conditions
The perfect winter cycling gloves for you will depend on the weather conditions you ride in and the style of riding you are doing. Whether you are endurance training for hours in sub-zero conditions or racing a short fast cyclocross race; there is a glove within the GripGrab range to suit your needs.
MILD Winter
Comfort range: 8 to 15°C
Gloves for the transition seasons of spring, autumn and the milder days of winter need to be lightweight and breathable, while adaptable to a variety of temperatures.
GripGrab's spring-autumn gloves feature flexible single layer fabric designs. This style will offer light insulation when the temperature begins to feel a bit chilly, but maximum breathability so you can keep wearing them even as temperatures rise throughout your ride.
Editor's choice:
All Mild winter gloves
COOL WINTER
Comfort range: 2 to 10°C
As the real winter temperatures set in and the thermometer hits single digits, you need added insulation to keep your hands comfortable on long winter rides.
GripGrab's cool weather winter gloves feature a two-layer design with a soft internal liner offering insulation against colder temperatures, while an external windproof fabric protects your hands against windchill, and a water repellent coating wards off light rain and road spray.
Editor's choice:
All cool winter gloves
COLD WINTER
Comfort range: -5 to 5°C
In the depths of winter as you ride through blizzards and downpours, you want maximum insulation and maximum weather protection for your hands.
GripGrab's three-layer construction 'Deep Winter' gloves feature a windproof outer, fibre insulation, then a soft inner lining for maximum comfort. The Polaris 2 gloves also feature a waterproof membrane to keep your hands dry when cycling in wet weather conditions.
Editor's choice:
all cold winter gloves
WINTER RACE
For many, winter is the off-season; but there are those for whom it is their most competitive season of the year. Cyclocross racers demand gloves that will keep their hands functioning with maximum dexterity and control, even in often abysmal winter weather conditions.
GripGrab's range of winter race gloves feature stripped-back lightweight designs; offering windproof protection for your hands without the bulk of insulation.
GripGrab's unique InsideGrip™ offers maximum control even with sweaty or damp hands; while fabrics such as neoprene provide warmth even in extreme wet weather.
Editor's choice:
Raptor RaceDay Lightweight Windproof Gloves
WINTER ENDURANCE / Training
Winter is a time for long hours in the saddle; racking up the kilometres in all weather conditions. Whether you are riding on the road, trails, gravel or on an adventure tour, you want your gloves to protect you from the elements hour after hour.
GripGrab's range of winter endurance gloves are designed for comfort when cycling, no matter how unwelcoming the winter weather becomes.
Featuring technologies such as best-in-class insulation, fully waterproof membranes and stretch windproof outer fabrics: these gloves will keep you riding come blizzard or gale.
Editor's choice:
Windster 2 Windproof Winter Gloves
Polaris 2 Waterproof Winter Gloves
Winter Commute
Commuting every week of the year demands a certain kind of dedication – and a selection of dedicated equipment. Winter commuting gloves should give you the confidence to head out the door whatever the weather, with hi-vis fabrics to also help you be seen.
GripGrab's range of winter commuting cycle gloves matches that designed for endurance riding, but with an added focus on high visibility fabrics.
Featuring excellent insulation and highly breathable fabrics, as well as waterproof membranes for when conditions demand. Keep on commuting, whatever the weather.
Editor's choice:
Ride Hi-Vis Windproof Spring-Autumn Gloves
Ride Hi-Vis Windproof Winter Gloves
all winter commute gloves
INSULATION
Insulation in the form of glove linings and fibre fill adds protection from cold temperatures, but also adds bulk to a glove's design. 
In our premium level winter gloves, the fibre fill insulation is award winning Primaloft® Gold – offering maximum insulation with minimal bulk; so you retain the best possible feel and control of your handlebars. 
all new winter gloves
Waterproof vs windproof
In freezing rain or snow, gloves with a fully waterproof membrane in their construction will create a protective capsule for your hands – keeping them dry and comfortable.
For most winter conditions however, an outer windproof fabric will offer the protection from windchill you need without the additional expense and reduced breathability of a waterproof construction. 
Editor's choice:
Liner gloves
Liner gloves are those worn inside other gloves, to trap an additional layer of insulating air. Liner gloves can turn your winter gloves into deep winter gloves, or provide even more insulation in your deep winter gloves.
Liner gloves are best used with slightly looser fitting outer gloves so that you don't cramp your hands inside with the added bulk. Therefore, you may need to size up in your outer gloves if you want to wear liners inside.
Editor's choice: